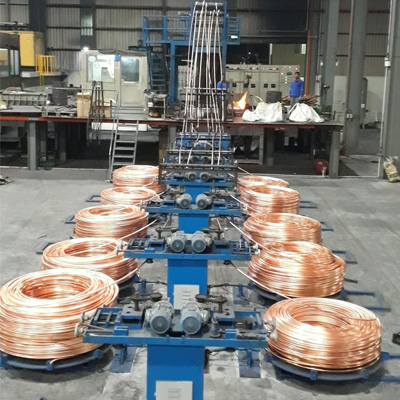 Established back in 2008, under the valuable guidance of Mr Sarvesh Bahadur Singh, Srishtech Metal Casting (I) Pvt Ltd (formerly known as Multi Tech Engineers) is a trusted name in the niche segment. Besides being the owner of the company, he is Mechanical/Electrical Engineer by profession having vast industry experience that has helped the company to grow. In the tenure of 15 years, the company has attained significant position under his valuable guidance. Over the years, we have come a long way and become one of the leading manufacturers of Continuous Casting Plant , Induction furnaces & Inline and Offline scalping machine not only in India but also Internationally.

The company has been changing its approach frequently, as per the requirements of the ever-changing clients and markets that helped us gain great recognition. Our manufacturing unit is loaded with complete tool room machineries and all fabrication machines to manufacture continuous casting plant and induction furnace and more. Our production capacity is 50 units per annum and we use Steel, Copper, Refractory, Ceramic, Brass, Aluminium etc. as raw material that guarantees the quality of our end-products. The USP of our product is that we use an auto control system for controlling furnace power and use servo motor for ensuring higher operational accuracy. We are one of the trusted Machinery Manufacturers for Copper and Copper based alloys internationally. We provide prompt delivery and full-time support.
Our Mission
Our mission is to design, manufacture and deliver products and services that meet the unique needs and expectations of customers, to that end, we have successfully built a solid foundation and infrastructure for continuous casting plants and induction furnaces etc. manufacturing.
Our Vision
Srishtech Metal Casting (I) Pvt Ltd. makes the difference through our people, a team of dedicated professionals, who value customers, deliver on our promises and contribute to sustainable development.
Designing And Planning
Rating, fittings, type of construction conform to Indian as well as International standards. All our range is capable of withstanding type test. Material quality control checks are strict and we made no compromise in the same. Moreover, stage wise inspection during fabrication, machining, assembly and designing get done. Testing from our end ensures trouble-free performance to users. We put our continuous efforts to upgrade the technology.
Our Team Comprises Of:
Researchers
Designers
Engineers
Quality Checkers
Technicians
Skilled and semi-skilled staff
Our Philosophy
Cost-effectiveness through quality
More flexibility, lowers costs
First listening, than engineering
Our competence is your advantage
Every product is as good as the customer service
We earn when our customers profit
Why Choose Us?
We have years of experience
Our range is comprehensive
Team is trained and experienced
Ensure you to deliver the best quality
Prompt product delivery
Quote competitive market prices

If you still have any queries, contact us now.